Photo Essay: My New Life in Finland, Connecting to a Community and Culture While Studying Abroad
Moi kaikki!  My name is Vanessa Wish, I'm 16, and I'll be living and studying abroad in Finland until the end of October!  Though I've only been here for two weeks, I have already fallen in love with both the people and this crazy, energetic, and beautiful country.  
I live in the small town of Kangasala, Finland with my host mom, Sirkka, my host dad, Juhani, and Osku the cat.  From the second I stepped off the plane at Tampere airport (the smallest airport I've ever seen!) and saw my host parents and my sister Annika, who has finished university and lives alone now, I felt like a part of the family.  
Everyone was so warm and welcoming, and even called me their "newest daughter"!  
Connecting with My New Host Family
My first weekend in Finland, the whole family came to visit- my oldest host brother, Juho, my host sister, Annika, my host cousins Emilia and Ellinoora, and even my youngest host brother, Janne, and his girlfriend, Anna, who both are studying in Latvia.  
This picture is an example of a typical Finnish lunch, with boiled potatoes, meatballs, cottage cheese, and fresh vegetables.  
One big adjustment at first was the time at which Finns eat meals.  Usually, they eat:
Breakfast (fruit and bread and cheese and coffee) at around 7 or 8 am
Eat something small at around 11 or 12pm
At about 3 or 4pm, my family has a larger meal, like in the picture above
Maybe a snack at about 7pm
Finally, a yogurt with fruit or maybe some ice cream right before bed
At home, we usually just eat breakfast, lunch, dinner, and a snack, so this was very different!  
Here in Finland, families tend to be very close-knit!  Everybody loves to spend time together and play games and tell stories.  Though Finnish people have a reputation of being very quiet, once they become comfortable, they are just as talkative as people from any other country!  
One of the best ways I've found to connect and spend time with my host mom is through cooking.  When we had Skyped for the first time, she had mentioned she loved to cook, and so one of the gifts I brought for her and Juhani was a cookbook of my family's favorite recipes!  
We cook together almost every day, and this is also a big way for me to learn Finnish.  In this picture above, Sirkka and I are making pulla, or Finnish cinnamon rolls.  These are traditionally eaten with coffee in the morning, kind of like how people in America will eat muffins or doughnuts.   
My host mom says everything she's doing twice- the first time in Finnish, and the second time in English.  Although it's only been two weeks, when we cook now we are able to speak almost entirely in Finnish!  Because it is such a difficult language, finding little routines like this have really helped me to learn quickly, and I've gotten several compliments from my teachers on how fast I'm learning, which always feels good!  
Exploring My New Home in Finland
Even though we don't live in a city, most people here ride a bike, walk, or take the bus everywhere.  Along every single street in the whole town, there are pedestrian/bike paths that are almost as wide as the road itself, so it is easy, quick, and safe to ride almost anywhere!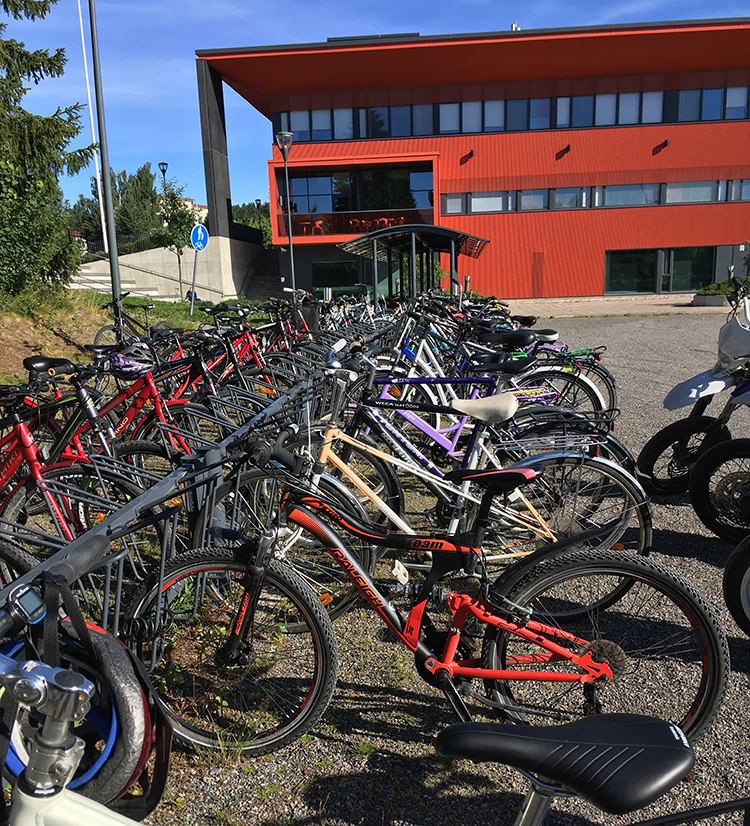 This is the parking lot right outside of my school, and every day there are about triple the amount of bikes as there are cars!  Also, because Finnish teenagers can get a motorcycle license when they are 15, many students who live a bit further away will use that to get to school in the morning.  Every day, I ride my bike anywhere between 3 and 10 miles, and compared to some of my classmates, that's nothing!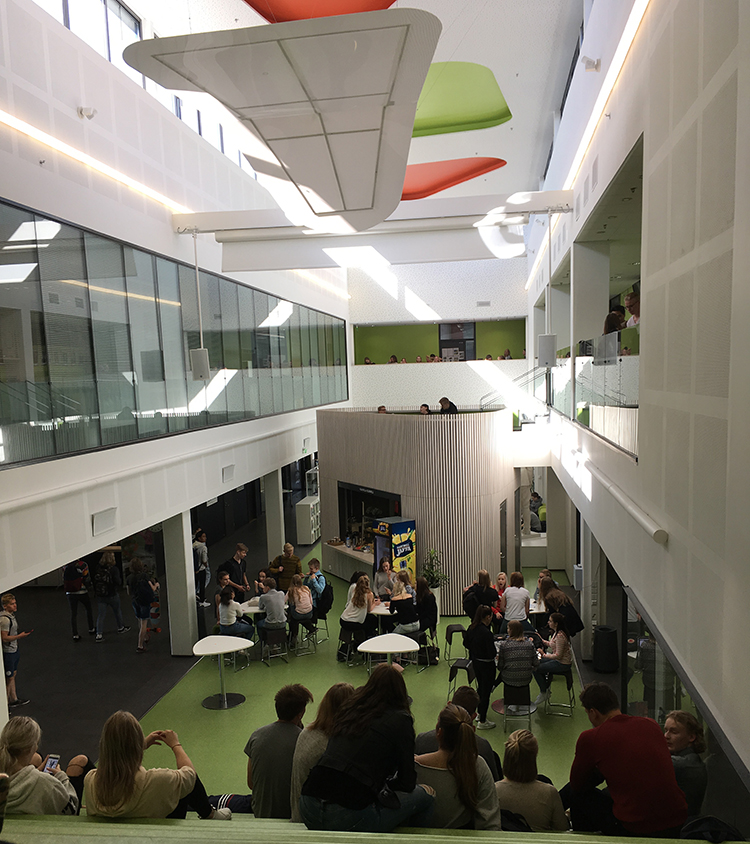 This is the inside of my lukio, or high school.  The school was only built in 2012, so it's very modern and completely different from any school I've ever seen in America!  
Between each class, every student has a 15 minute break, so everyone hangs out together in the common area and on the steps.  There are only about 400 kids in the whole school, which is people between 16 (first grade) and 19 (senior year).  Compared to my high school at home, which has over 3,000 students, this feels tiny, but apparently this lukio is one of the largest in the region!  
One big thing to know about Finnish students is that they are very shy.  People will not come up to you and start conversation, and often even if you start talking to them, they will just kind of nod or shake their head for a while until they begin to feel more comfortable.  This is a bit intimidating at first, but it's just who they are!  
Once they start talking, Finns are some of the kindest and funniest people ever!  Also, even if they are shy, if you ask them a question or if you need help, they will help you right away and do everything they can to make sure you understand.  
Enjoying the Finnish Way of Life
One of the most important parts of Finnish culture is the summer cottage, or mökki, and of course the sauna!  On my first weekend, we all drove about 45 minutes to my host family's mökki to spend the afternoon there.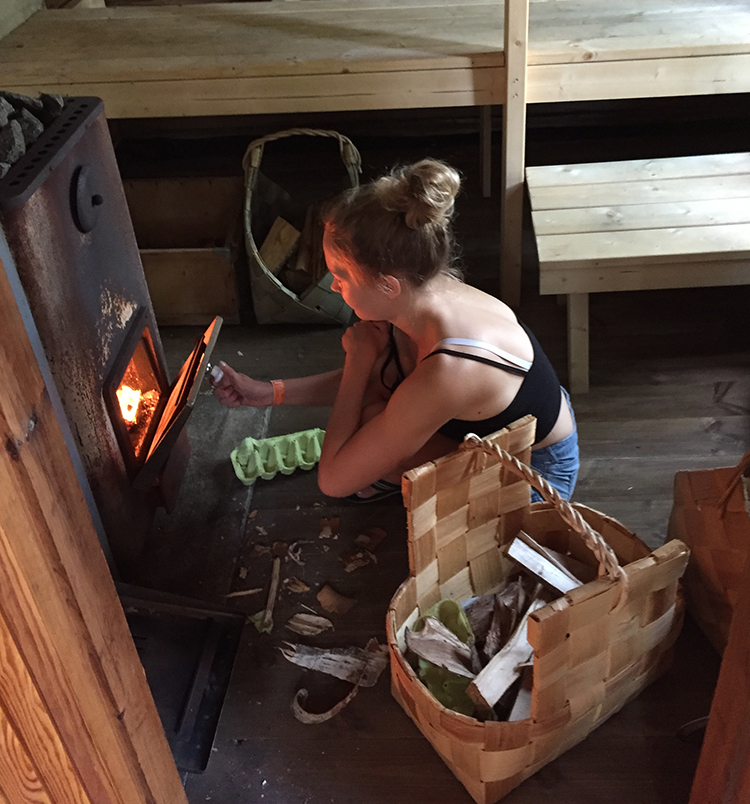 In this picture, my host cousin Ellinoora, was starting up a fire in the sauna.  There are saunas everywhere in Finland! Every house has one, and they are in many public places as well, such as the swimming pool and hockey rink. Usually, couples will go together and younger people of the same gender will go together, but it isn't unusual to go alone either.
After sauna, we did more typical activities at the summer house, like roasting sausages and going swimming and paddle boarding in the lake!  We also picked hundreds and hundreds of blueberries that were growing wild in the forest.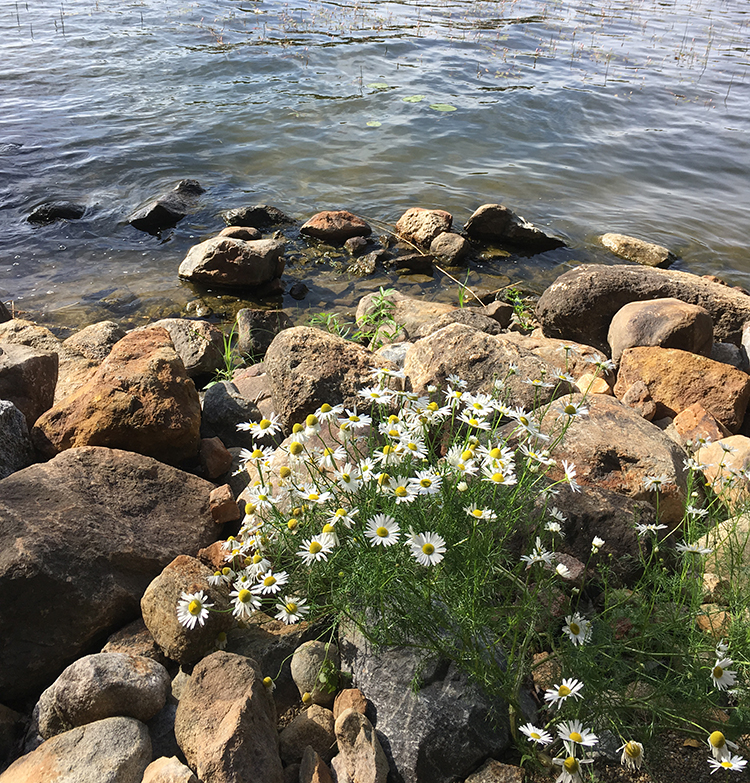 Probably the thing that Finland is best known for, apart from its schools, is its nature, and it's clear why!  The summers here are so short it's hard to even call it summer, but still everything is green and wildflowers and berries grow everywhere!  
Even now, at the end of August, it is about 3°C (37°F) when I leave for school in the morning, and almost never gets warmer than 15°C (60°F).  If you ask me, that's November weather!  One really nice thing is how clean everything is here.  You can actually tell that the air is cleaner than in America as soon as you step off the plane.
There are also hundreds of thousands of lakes, which are perfectly clear and you can see all the way to the bottom when you swim in them!  I saw these flowers growing right beside the lake at my family's summer cottage, and it was just too pretty not to take a picture.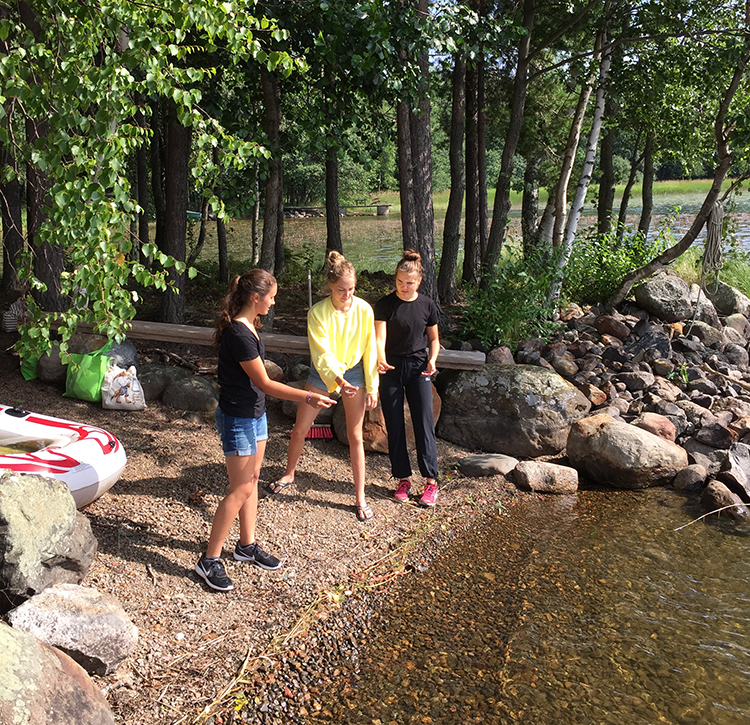 Because their summers are so short, Finns love to spend as much time as they can outside.  Here, I was teaching Emilia and Ellinoora how to skip rocks across the lake.  It was so much fun to see them finally get it after about 15 minutes!
Even doing little things like this with your host family can make both you and them feel more like a family and less like just people who are letting you stay with them for a few months.  Plus, it's fun!  
One of the great things about my host town, Kangasala, is that it is very rural, but is also less than half an hour away from Tampere, the second biggest city in Finland.  Both of my host parents work there, so one evening they took me to walk around the city center and see what there was.  
It's a relatively small, but really beautiful city!  In this picture, my host dad Juhani and I are standing in front of the river that runs through the middle of the city, which powered most of the factories that the city was originally based on. Tampere is also the place to go with friends, and some friends from school and I have gone several times right after class to walk around and get food.  
Fun Fact:  Tampere is known all over Finland for its chicken wings, so if you're there you really need to get some!  
My first few weeks have been unforgettable, and I can't believe I'm only staying for three months!  I really wish I could stay longer.  If you're thinking about studying abroad- do it!!!!!  It's one of the most exciting, scary, and rewarding things you'll ever do.  
Want to learn how you can live and study in Finland?