What I've Learned From the Best Two Weeks of My Life in Florence
This week has been a hurricane of emotions, from wanting to go home really badly and then crying because I have to. There is nothing quite like traveling abroad. It's the best thing ever, but be prepared for what it does to your insides.
Poor Kevin
One of my favorite things is learning strange things about another culture. Example: One German friend explained that getting called a 'Kevin' in Germany is an insult, to which all the other German students nodded in agreement, muttering things like "yes, no Kevin," and "Kevin is a bad thing," while my friend went on to say that a close English translation for Kevin might be 'dumb***'. And since I met more German-speaking kids than any other, I also discovered that they seem to be born Type A (in a good way).
I saw them picking up empty water bottles in the park, making lots of lists, making sure everyone else's water glass was always full when eating or taping every receipt for everything they bought into a journal. Another weird one (to me, anyway) is that every male in Italy wears Speedos at the pool. Every single one. No matter what their body looks like. I mean, #beconfident, right? Unfortunately, there are too many more to mention (I've been so tired this week I can't even remember them), but I'll have some good conversation starters for years to come.
BFFS R GR8
It is shocking how close a group of adolescent females can become in a matter of five days. I had to say goodbye yesterday, and suddenly said group of girls was blocking sidewalk traffic to partake in a massive group hug. There was a little crying involved; we don't need to mention it. What I'm saying is, you will make some of the best friends you've ever had. You will share the same experiences, the same adventures, and even the same challenges.
From trying to force our tongues to make new sounds, to playing slightly inappropriate games of water bottle toss in the street, to pigging out at the design-your-own-ice-cream-bar Magnum Store every single day, not to mention Karaoke, late night walks, and shopping too long, these were the best two weeks of my life.
Pokemon Go and #TaylorSwiftisoverclub
Something inevitable about traveling abroad (and probably beneficial) is that I haven't been able to keep up with the Kardashians, or anything else. I am just now finding out about Pokemon Go and Taylor Swift vs. Everyone. Stuff like that doesn't really matter when you're busy soaking up a whole other culture. Other inevitable things: so much walking, not nearly enough sleep, and occasional frustration.
But there are things on the other end of the spectrum as well, including: so many friends, so much knowledge, and so many sights to see. You'll find that there are lots of things that can't be helped, but if you can roll with the punches, it will all be worth it.
Daily Excursions
Attending a Greenheart Travel language camp in Florence means that I get to go on fun excursions every day, including visits to museums, landmarks, and even the weird pool (Speedos, see paragraph no. 2). These excursions give you the chance to become even closer to your new friends while seeing all kinds of interesting new things.
I do have one crucial piece of advice for you though; keep track of your personal belongings at all times. You don't want to lose your money or passport, much less an expensive pair of Ray-Bans. Yeah, I had my sunglasses clipped to the outside of my book bag for, like, five seconds and they got stolen (maybe don't bring expensive sunglasses), but that isn't my point here.
What I'm talking about is that I have amazing activities planned for me every day! And during the weekend, there is always a day trip planned for both Saturday and Sunday. I was lucky enough to be there the weekend that a Cinque Terre trip was scheduled and have never seen a more beautiful place. I took some awesome pictures like the professional photographer I think I am, even though I was on the hardest hike I can remember.
I've said it before and I'll say it again: these two weeks have honestly been the best of my life, and it will be bittersweet to get on the plane to go home. My advice is to never be scared of what's out there, and if there's ever a chance to do something like this, then absolutely, positively, take that chance.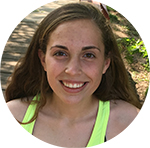 Libby Crecco is 14 years old and lives in Clarkson, Nebraska. Her goal during her language program in Florence, Italy is to "learn as much about Italian culture as I hope to learn about the language." Follow Libby's adventure in Italy on her weekly blog post updates.