Studying in Spain for the Summer Has Been an Adventure I Will Never Forget!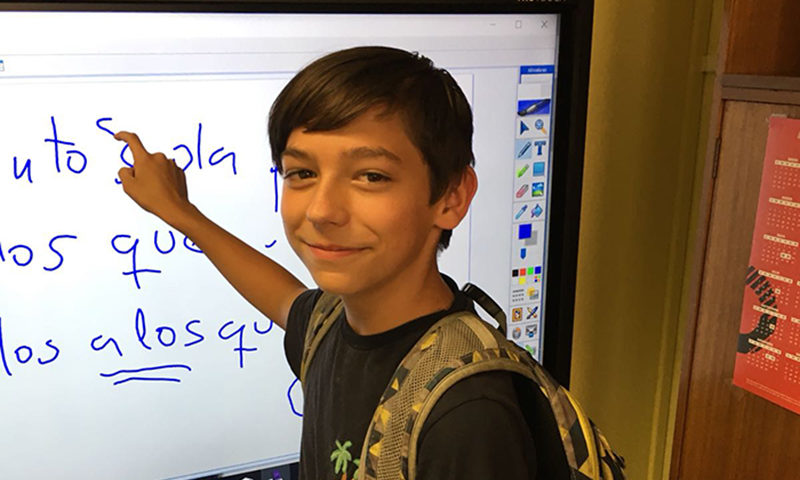 Let me introduce myself again… my name is James and I am a rising freshman in High School from Virginia, USA.  I can't believe it but I am more than half way through my six-week Greenheart Travel Teen Language Camp in Salamanca, Spain.  I started this journey with a desire to learn Spanish and to be part of the Spanish culture.
I know many teens are nervous about doing something like this.  My advice to others about living with a Spanish host-family is don't be afraid.  Don't be afraid to ask questions.  Don't be afraid to say things wrong.  It is ok to not know what to do.  Just be yourself and be open.  It is difficult at first because everyone is speaking Spanish and so fast.  It will be tough the first couple days but it gets easier every day and then one day it is awesome!  If you are a beginner Spanish speaker like me, it will help to learn some basic phrases to let them know they need to speak slower, please repeat or that you don't understand.
My Host Family
I want to tell you a little about my Spanish host family.  My host family consists of a lady named Paula.  She is an older lady that is single and loves to cook (and I am glad for that).  We don't do a lot of activities outside the house together.  In our house we have 4 students including me.  I share a room with another boy.  We mainly talk at dinner with Paula about our day and if we need help with anything. The other students and I walk together to school, eat dinner and go to the park to play basketball/soccer and in the evening to the main meeting place, Plaza Mayor.
Day to Day Life in Salamanca
The most difficult part about my experience in Spain was the language barrier.  It was really difficult at first because I didn't know that much Spanish.  The other part that helps is getting settled into your routine.  For me, I wake up at 8am for breakfast (which is light like toast) and then walk to school.  I have school Monday-Friday from 9am to 12:30pm.  I then walk home for lunch which is around 1pm. Yes we walk everywhere!  Lunch is the main meal of the day.  After lunch I take a break, work on homework or take a nap (siesta) until around 5pm when I walk back to school and stay until 7pm.  I go home after school and have dinner around 9pm.  We also have school excursions on Saturdays where we go to places like the mountains or old bullfighting arenas.  We can go out to the main meeting place (Plaza Mayor) after dinner.  Again, that is where everyone goes at night.  Plaza Mayor has the best ice cream too!
Learning and Studying Spanish Here vs. Back Home
I have learned that the Spanish culture isn't really that different from the culture I was raised in.  The biggest challenge is learning to change your brain to listen and try to speak Spanish all the time.  I have learned so much about the Spanish language.  I have learned more Spanish in my few weeks here than I did in two years of middle school Spanish.  I have some really great teachers here at the school in Spain.  They are so good and fun!  They make class fun.  Just to be clear I am not the kid that loves being in the classroom so that is saying a lot.  It is amazing how much I have learned and I love learning new Spanish each day!  I just moved up to a higher level in Spanish recently!
My Favorite Spanish Food
The food here is crazy good!  I have so many favorite foods here in Spain but Paella is my absolute top pick.  Paella is rice with seafood (whole shrimp, clams), meat like chicken, olives and peppers.  I also love the ham (it is like nothing I have ever had before!).  The ham is expensive if you get it at a restaurant but it is worth it.  My friends and I will order and share.  I will say that for dessert the churros con chocolate (it is a lightly fried dough that you dip in melted chocolate) is the best only to be passed by the ice cream.  The ice cream is the best!  I can't forget the fruit here, the melons are so great!  I also have a favorite drink, Fanta Limon (lime flavored Fanta).  All the food is so wonderful it is hard to just mention a few!  Ok so you get the idea … the food is amazing so don't be afraid to try everything!
Advice To Those Considering Doing This Program…
To wrap it up … This is a really scary move but it is so worth it.  Just remember that it will be really hard at first (I didn't think it would be as hard as it was for the first few days) but before you know it you will be understanding and speaking Spanish (or at least trying) and feeling at home.  I now feel that I am fitting in and so excited so see what the next day will bring.  I can't say enough about what an experience this has been.  I am just happy I still have more time before I go home to the United States.  I am so glad I had the courage to do this! I have gained confidence in what I can do on my own as well as friends and a love for a language and culture!  I can tell you this has been an adventure I will never forget!
James DuVal, from Virginia, is a Greenheart Travel First Time Traveler Scholarship recipient. Learn more about Greenheart Travel's scholarship opportunities to help you travel for a change!
Do you also want to advance your Spanish skills in just 6 weeks next summer? Learn more about our program in Spain!